21. The heat produced in a conductor of resistance 4.2 Ω with 10 A flowing in it is
(i) 42 cal/sec
(ii) 100 cal/sec
(iii) 4.2 cal/sec
(iv) 420 cal/sec

22. A heater coil rated at 1000W, 220 V is connected to 110 V line. Power consumed is
(i) 250 W
(ii) 500W
(iii) 200 W
(iv) 400 W

23. Two electric bulbs marked 500W, 220 V are put in series with 110 V line. The power dissipated in each bulb is
(i) 25/4 W
(ii) 225/4 W
(iii) 325/4 W
(iv) 125/4 W

24. An electric fan and a heater are marked as 100 W,220 V and 1000W, 220 V respectively. The resistance of heater is
(i) zero
(ii) greater than that of fan
(iii) less than that of fan
(iv) equal to that of fan

25. Two resistances connected in parallel across a cell of negligible internal resistance, use 4 times the power that they would use, when in series across the same cell. If one of the resistances is 10 Ω, the resistance of the other is
(i) 20 Ω 
(ii) 10 Ω
(iii) 40 Ω
(iv) 5 Ω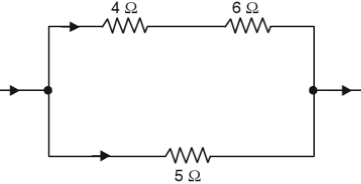 26. In the circuit shown in above Fig, the heat produced in 5 Ω resistor is 10 cal/sec. The heat produced in 4 Ω resistor will be
(i) 2 cal/sec
(ii) 1 cal/sec
(iii) cal/sec
(iv) 4 cal/sec

27. How much energy is kilowatt-hour is consumed in operating ten 50 W bulbs for 10 hours per day in the month of June ?
(i) 1500
(ii) 15000
(iii) 15
(iv) 150

28. The water in an electric kettle begins to boil in 15 minutes after being switched on. Using the same main supply, should the length or wire used as heating element be increased or decreased if water is to be boiled in 10 minutes ?
(i) increased
(ii) decreased
(iii) unchanged
(iv) none of above

29. A constant voltage is applied between the two ends of a metallic wire of uniform area of cross-section. Some heat is developed. The heat is doubled if
(i) both length and radius are halved
(ii) both length and radius are doubled
(iii) the radius of wire is doubled
(iv) the length of wire is doubled

30. A uniform wire when connected directly across a 200 V line produces heat H per second. If the wire is divided into n equal parts and all the parts are connected in parallel across 200 V line, the heat produced per second is
(i) H
(ii) nH
(iii) n2H
(iv) H/n2

31. Three equal resistors in series across a source of e.m.f. together dissipate 10 W of power. If the same resistors are connected in parallel across the same e.m.f. source, the power dissipated will be
(i) 10 W
(ii) 30 W
(iii) 90 W
(iv) 10/3 W

32. Two flash light electric incandescent lamps require 30 A each at 1.5 V. If they are placed in series and connected to a 6 V source, they must be connected in series with them a resistor of
(i) 0.1 Ω
(ii) 12 Ω
(iii) 6 V
(iv) 3 Ω

33. A 100 W bulb will give heat and light energy of
(i) 100 J/s
(ii) 200 J/s
(iii) 50 J/s
(iv) 150 J/s

34. Electric supply is rated at 220 V. In a house, 11 bulbs of power rating 100 W each are used. The rating of the fuse should be
(i) 0.5A
(ii) 0.1 A
(iii) 1 A
(iv) 5 A

35. What is immaterial for a fuse ?
(i) its resistivity
(ii) its radius
(iii) its length
(iv) none of above

36. By what percentage will the incandescence of a lamp decrease if the current drops by 2 % ?
(i) 1%
(ii) 4%
(iii) 2%
(iv) 8%

37. Appliances based on heating effect of current work on
(i) d.c. only
(ii) a.c. only
(iii) both d.c. and a.c.
(iv) none of above

38. Two coils connected in parallel across 100 V supply take 10 A from the line. The power dissipated in one coil is 600 W. The resistance of the other is
(i) 25 Ω
(ii) 250 Ω
(iii) 125 Ω
(iv) 12.5 Ω

39. One heater coil boils certain amount of water in 10 minutes and another heater coil in 15 minutes. In how much time the same water will be boiled if the two heaters are put in series.
(i) 12.5min
(ii) 25min
(iii) 2.5min
(iv) none of above