1. The Forth Military World Games were held in October, 2007 in India at
(a) Hydrabad
(b) Chennai
(c) Ahmedaba
(d) Lucknow

2. Who of the following received the Sanskriti Award for 2007 in the field of literature?
(a) Jyotshna Kalita
(b) K.A. Shaji
(c) K.P. Reji
(d) Bijayini Satpathy

3. The legislative Council in a state can be abolished by the parliament on the recommendation of
(a) The President
(b) The Governor
(c) The State Legislative Assembly
(d) None of the above

4. Which of the following atmospheric layers lies closest to the Earth?
(a) Mesosphere
(b) Exosphere
(c) Stratosphere
(d) Troposphere

5. Who of the following won the World Chess Championship, the final round for which was held in Mexico City on September 29, 2007 ?
(a) Peter Leko
(b) Viswanathan Anand
(c) Vladimir Kramnik
(d) None of the above

6. Match the List-I (Vitamins) with List-II (Deficiency diseases) and select the correct anser using codes given below the list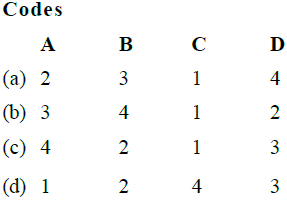 7. The variety of steel which is resistant to acids is
(a) carbon steel
(b) molybdenum steel
(c) nickel steel
(d) stainless steel

8. Metals are good conductors of heat and electricity except
(a) aluminium
(b) iron
(c) bismuth
(d) silver

9. Which of the following is India's largest district ?
(a) Leh
(b) Barmer
(c) Kutch
(d) Baster

10. The name of the first missile boat built in India is
(a) Vibhuti
(b) Jal-mudra
(c) Bhujanga
(d) Matasya

11. Who has been appointed as the Chairman of the 13th Finance Commission?
(a) Vijaya L. Kelkar
(b) Bimal Jalan
(c) B.K. Chaturvedi
(d) Rakesh Mohan

12. How many major and minor ports does India have?
(a) 12 major and 184 minor
(b) 16 major and 180 minor
(c) 20 major and 175 minor
(d) 27 major and 190 minor

13. Which of the following is not an agency of the U.N.?
(a) Food and Agricultural Organisation
(b) International Committee of the Red Cross
(c) International Monetary Fund
(d) International Labour Organisation

14. The maximum share of the Gross Domestic Product now comes form
(a) Manufaturing
(b) Agriculature
(c) Services
(d) Livestock

15. Nine Degree Channel separates
(a) England and France
(b) India and Sri Lanka
(c) Lakshadweep and Minicoy
(d) North Andaman and South Andaman

16. Grand Slam in Tennis means a player has to win
(a) Austrialian Open, French Open and U.S. Open
(b) Austrialian Open, French open and Wimbledon
(c) Austrialian Open, U.S. Open and Wimbledon
(d) Austrialian Open, French Open, U.S. Open and Wimbledom

17. The cruise missile named as 'Brave Wind' has been developed by which of the following countries?
(a) Israel
(b) Russia
(c) China
(d) Taiwan

18. Who of the following was awarded to Nobel Prize for Literature for the year 2007 ?
(a) Doris Lessing
(b) Gerhard Ertl
(c) Leaonard Hurwicz
(d) Oliver Smithies

19. The 'Federation of Indian Chambers of Commerce and Industry' (FICCI) was founded in the year
(a) 1911
(b) 1927
(c) 1947
(d) 1950

20. Which newspaper has the motto Journalism of Courage?
(a) The Times of India
(b) The Hindu
(c) The Hindustan Times
(d) The Indian Express