Dielectric heating
is also known as radio frequency heating or electronic heating. When a non-metallic material such as wood, plastic, bone or ceramic is subjected to an alternating electrostatic field, the
dielectric loss
occurs in it. This loss appears in the form of heat in dielectric heating. It is the basic
dielectric heating principle
.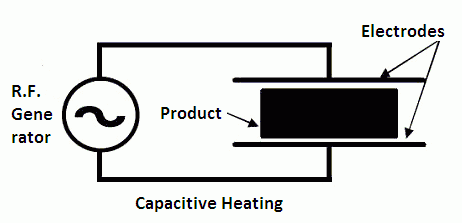 Dielectric Heating Principle

The material to be heated is placed as a slab between two metallic electrodes across which high-frequency voltage is applied. To ensure sufficient loss and to give an adequate amount of heating, frequencies between 10 to 20 MHz must be used. The voltage varies from 10 to 20 kV. The necessary high-frequency supply voltage is obtained from a valve oscillator.

The current drawn by the capacitor, when an a.c. supply voltage is applied across its two plates, does not lead the supply voltage by 90° exactly. It means that there is a certain component of the current which is in phase with the voltage. Due to this component of current, heat is produced in dielectric material placed in between the two plates of the capacitor.

This electric energy, dissipated in the form of heat energy in the dielectric material is known as the dielectric loss. The dielectric loss is directly proportional to V 2f. That is why high-frequency voltage is used in dielectric heating.

Generally, a.c. voltage of about 20 kV at a frequency of 10-30 MHz is used. Dielectric heating is also employed for drying of textiles, manufacture of plywood, paper etc. The overall efficiency in case of dielectric heating is about 50%.

Advantages and Disadvantages of Dielectric Heating

Advantages:

Since the heat is produced throughout the whole mass of material, we get uniform heating. By the conventional method of heating, it is not possible to achieve this.
Short time is required to complete the process as compared to another method.
Dielectric heating is suitable for non-conducting materials like wood, plastics and synthetic compounds etc.
Disadvantages:

Only those materials can be heated which have the high dielectric loss.
The cost of equipment required for dielectric heating is so high that it is employed only where other methods are impracticable.
The overall efficiency of dielectric heating is very low (about 50%).
High frequencies may cause radio interferance.
Applications of dielectric heating
It is used in drying tobacco, paper, wood, gluing and bonding of woods.
Welding of PVC.
Dielectric heating is used in producing artificial fibers, heating of bones and tissues etc.
It is used in food processing.

Thanks for reading about dielectric heating principle.

Induction Motor MCQ
1. In a squirrel cage induction motor, torque with autostarter is ....... times the torque with direct-switching. Where K is the transformation ratio of the autotransformer.
2. If stator voltage of a squirrel cage induction motor is reduced to 50 per cent of its rated value, torque developed is reduced by ....... per cent of its full-load value.
3. For the purpose of starting an induction motor, a Y-Δ switch is equivalent to an auto-starter of ratio.......per cent.
4. A double squirrel-cage motor (DSCM) scores over SCIM in the matter of
5. In a DSCM, outer cage is made of high resistance metal bars primarily for the purpose of increasing its
6. Which of the following motor is an interesting example of beneficially utilizing a phenomenon that is often considered undesirable ?
7. A 6-pole 3-φ induction motor taking 25 kW from a 50-Hz supply is cumulatively-cascaded to a 4-pole motor. Neglecting all losses, speed of the 4-pole motor would be ....... r.p.m.
8. In the shaded pole squirrel cage induction motor the flux in the shaded part always
9. When a stationary 3-phase induction motor is switched on with one phase disconnected
10. If single-phasing of a 3-phase induction motor occurs under running conditions, it
11. One of the characteristics of a single- phase motor is that it
12. After the starting winding of a single- phase induction motor is disconnected from supply, it continues to run only on ............winding.
13. The direction of rotation of a single-phase motor can be reversed by
14. If a single-phase induction motor runs slower than normal, the more likely defect is
15. The capacitor in a capacitor-start induction- run ac motor is connected in series with ...... winding.
16. The starting torque of a capacitor-start induction-run motor is directly related to the angle α between its two winding currents by the relation
17. In a two-value capacitor motor, the capacitor used for running purposes is a/an
18. If the centrifugal switch of a two-value capacitor motor using two capacitors fails to open, then
19. Each of the following statements regarding a shaded-pole motor is true except
20. Compensating winding is employed in an ac series motor in order to
21. A universal motor is one which
22. In a single-phase series motor the main purpose of inductively-wound compensating winding is to reduce the
23. A repulsion motor is equipped with
24. A repulsion-start induction-run single- phase motor runs as an induction motor only when
25. If a dc series motor is operated on ac supply, it will
26. An outstanding feature of a universal motor is its
27. The direction of rotation of a hysteresis motor is determined by the
28. Speed of the universal motor is
Utilization of Electrical Energy| All Posts
© http://www.yourelectricalguide.com/ dielectric heating principle.