1. The value of current I flowing in the 1 ohm resistor in the circuit shown in the figure below will be
(a) 10A
(b) 6A
(c) 5A
(d) zero

2. In the figure shown below, if we connect a source of 2V, with internal resistance of 1 ohm at AA' with positive terminal at A, then current through R is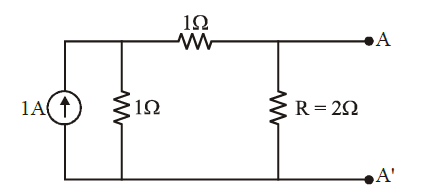 (a) 2A
(b) 1.66A
(c) 1A
(d) 0.625A

3. The curve representing Ohm's law is
(a) Linear
(b) Hyperbolic
(c) Parabolic
(d) Triangular

4. Specific resistance of a conductor depends upon
(a) Dimension of the conductor
(b) Composition of conductor material
(c) Resistance of the conductor
(d) Both (a) and (b)

5. Superposition theorem is essentially based on the concept of
(a) Reciprocity
(b) Linearity
(c) Duality
(d) Non-linearity

6. If a 500 KVA, 200 Hz transformer is operated at 50 Hz, its KVA rating will be
(a) 2000 KVA
(b) 125 KVA
(c) 250 KVA
(d) 1000 KVA

7. The angle between induced emf and terminal voltage on no-load for a single phase alternator is
(a) 180°
(b) 90°
(c) 0°
(d) 270°

8. A salient pole synchronous genertor connected to an infinite bus power will deliver maximum power at power angle of
(a) δ = 0
(b) δ = 90°
(c) δ = 45°
(d) δ = 30°

9. Starting torque of sychronous motor is
(a) very low
(b) zero
(c) very high
(d) half-full load torque

10. The power factor at which transformer operates
(a) is unity
(b) is 0.8 lag
(c) is 0.8 lead
(d) Depends upon the power factor of the load

11. The effficiency of a 100 KVA transformer is 0.98 at full as well as half load. For this transformer at full load the copper loss
(a) is less than core loss
(b) is equal to core loss
(c) is more than core loss
(d) All the above

12. Which of the following will improve the mutual coupling between primary and secondary circuit?
(a) Transformer oil of high break down voltage
(b) High reluctance magnetic core
(c) Winding material of high resistivity
(d) Low reluctance magnetic core

13. High leakage transformers are of
(a) Small voltage ampere rating
(b) High voltage ampere rating
(c) High voltage rating
(d) Low voltage rating

14. The starting torque of a 3-phase induction motor varies as
(a) V2
(b) V
(c) √V
(d) 1/V

15. In a 3-phase induction motor, the mechanical power developed, in terms of air gap power Pg is
(a) (1 – s)Pg
(b) Pgs
(c) Pg/(1- s)
(d) Pg/s

16. The negative phase sequence in a 3-phase synchronous motor exists when the motor is
(a) underloaded
(b) overloaded
(c) supplied with unbalanced voltage
(d) hot

17. A centre zero ammetor connected in the rotor circuit of a 6-pole, 50 Hz induction motor makes 30 oscillations in one minute. The rotor speed is
(a) 670 rpm
(b) 1000 rpm
(c) 1010 rpm
(d) 1030 rpm

18. The permissible variation of frequency in power system Ps is
(a) ± 1%
(b) ± 3%
(c) ± 5%
(d) ± 10%

19. For cooling of large size generators hydrogen is used because
(a) it offers reduced fire risk
(b) it is light in weight
(c) it is of high thermal conductivity
(d) all the above

20. The connected load of a consumer is 2 kW and his maximum demand is 1.5 kW. The demand factor of the consumer is
(a) 0.75
(b) 0.375
(c) 1.33
(d) 1

21. To meet the reactive power requirements of load centres usually
(a) Shunt capacitors are used
(b) Series capacitors are used
(c) Shunt reactors are used
(d) Tap changing transformers are used

22. The power factor will be leading in case of
(a) dielectric heating
(b) resistance heating
(c) induction heating
(d) all the above

23. Which instrument has the lowest resistance?
(a) Ammeter
(b) Voltmeter
(c) Megger
(d) Frequency meter

24. The moving coil in a dynamometer wattmeter is connected
(a) in series with the fixed coil
(b) across the supply
(c) in series with the load
(d) any one of the above

25. In an R-L-C circuit susceptance is equal to
(a) 1/X
(b) 1/R
(c) R/Z2
(d) X/Z2

26. The current read by the ammeter A in the AC circuit shown in following figure is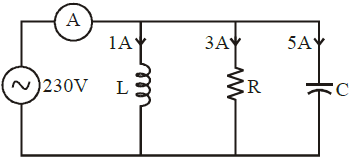 (a) 9 A
(b) 5 A
(c) 3 A
(d) 1 A

27. A 4-pole generator with 16 coils has a two layer lap winding. The pole pitch is
(a) 32
(b) 16
(c) 8
(d) 4

28. Two coupled coils with L1 = L2 = 0.6H have a coupling coefficient of K = 0.8. The turn ratio N1/N2
(a) 4
(b) 2
(c) 1
(d) 0.5

29. The voltage across the various elements are maked, as shown in the figure given below. The input voltage is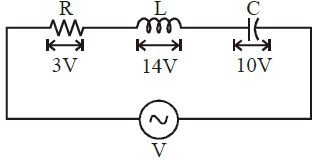 (a) 27 V
(b) 24 V
(c) 10 V
(d) 5V

30. The principle of dynamically induced emf is utilised is
(a) Choke
(b) Transformer
(c) Thermocouple
(d) Generator